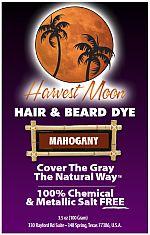 Hair Kit Comes With :

Latex Gloves
Shower Cap
Hair Clips
Application Brush
Root Touch Up Cone
Mahogany is a dark brown with subtle red highlights. The lighter your natural color the more red highlights you will have.
Warning: The darker your hair the darker this will be! If you start with dark brown your hair will be almost black with a hint of red.
If you start with light hair,blond or gray it will be more mahogany with red. Always do a strand test first.