Pure Natural Henna gives a Red/Orange color to your hair like Lucille Ball's hair color. She used pure henna on her hair for years.
If you have dark hair the red/orange color will be darker, if you have blonde hair the red/orange will be much brighter. For naturally black hair you may only notice a color change to your gray hairs and a slight red/orange tint in the sunlight.
Ingredients: 100% Lawsonia Inermis

Natural Hair color | after application color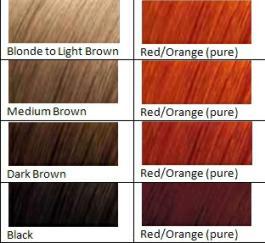 Natural red/orange " 100% pure henna" hair dye
100 grams/3.5 ounces
This is triple cloth sifted super fine
henna. It is BTBAQ (Body art quality)
It will do henna tattoos. For henna tattoos
We recommend adding shelly oil. Our henna is super fresh and is ready to go
in one hour for body art. Hair it is immediately ready.
Henna is mostly harvested one time out of the year,
So most henna goes bad and then you have to let it set out
longer to get a release. With Harvest Moon Henna®
there is now waiting! Just add water and apply to clean hair (wash hair twice prior
to application with non conditioning shampoo).
You do not need a PHD to use Harvest Moon Henna®, just water!
Reg. Price $14.48
Sale Price $12.98 (100 grams!)
1 Packet: Sale Price $12.98
3 Packets: Sale!
5 Packets: (Best Value)