My experience with henna hair dye was new and exhilarating. I have never before used henna hair dye and surprisingly enough it was quite simple. There were three simple steps.
1. add water.
2. mix it up.
3. put it on my head.
And WOW!!! The color was just awesome. Now I've got the best hair at my Community College.  Also, I'm a waitress and I get compliments all day at work. I'd like to thank all of you down at  Infinite Earth!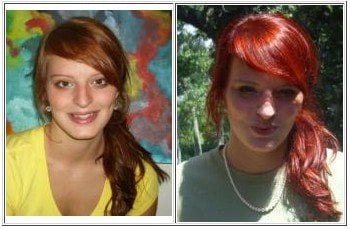 This is me before doing the "Red Red" henna hair dye and my after picture.
J.B. Gulfport MS