First of all, thank you very much for sending my replacement order, your customer service is excellent and I have referred a lot of customers your way because I was very pleased with my results. Looking forward to doing this again. I followed your directions from the web-site video which were very easy to follow. Since I did the henna application to my hair I have no longer had to de-tangle my hair, I have also noticed a difference in my curl definition. I am very pleased and thank you, you have a lifetime customer in me. Your henna hair dye is nothing like the ineffective henna that I have used in the past.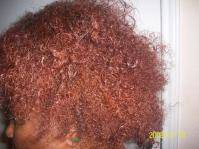 Step One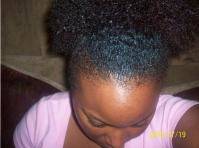 Step two
Excellent results using Harvest Moon Black Henna Hair Dye!
Black continues to get darker over 24 hours!
Black Henna Hair Dye L.W. Houston, TX