I am so happy that I found your website. I love to change my hair color, but at the moment I am currently nursing my son. I definitely had to find a type of hair dye that is not only safe for me, but for my son as well. (since whatever I take in and use affects him). I decided to use your hair dye product because it is chemical-free. I'll have to admit that I was a bit skeptical that the color would catch on my hair because when I used a henna product on my hair, it had no effect on it. My hair didn't even change color! However, after using your deep henna red product, I was amazed at the results. I love the way my hair looks and feels now! The texture of my hair before was brittle had split ends, and just felt dry, due to previous bleaching and chemical hair coloring. Now, the color is great, it's shinier, and it feels so much healthier! It feels so soft and I can hardly see any breakage. It even seems to be growing faster. I have gotten so many compliments on my hair. I want to try the burgundy hair color next to see how it will come out. You have definitely got a customer for life! I recommend this product to women who are pregnant or breastfeeding as a more safe alternative than those more harmful grocery store-bought dyes.
1st photo: you can see how damaged the bleach and dye had left my hair
2nd photo: after henna, indoors (after 48 hrs)
3rd photo: after henna, outdoors (after 2 weeks) color looks even deeper.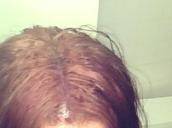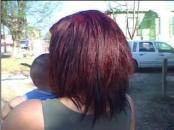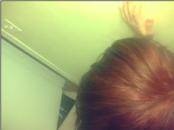 N.T., San Antonio, TX