I received the product so fast! Day and a half and already I have completed the henna color last night (Burgundy). I didn't see any other email on your site except this one to send before & after photos! 🙂 I hope you post them to your site because I started out all bleached damaged blonde and ended up with dark burgundy in just one hour. I went to 12 different doctors and the emergency room before finding and talking to the folks here. I did not know chemical hair dye was giving me a bad reaction. The bad reaction was my not being able to swallow. Thank you, EarthDye and Rodney, for helping me find such a wonderful solution!
Thanks a lot, I love it and will order once a month! I include 2 photos!
#1 before henna (did eyebrows too).
#2 The next morning, (this morning) my window, sunlight, and color darkened.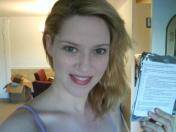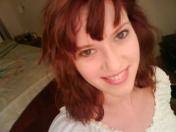 Susan.M. Alexandria, Va
Purchase Deep red Henna Hair Dye
Purchase Ash Brown (sells out fast)