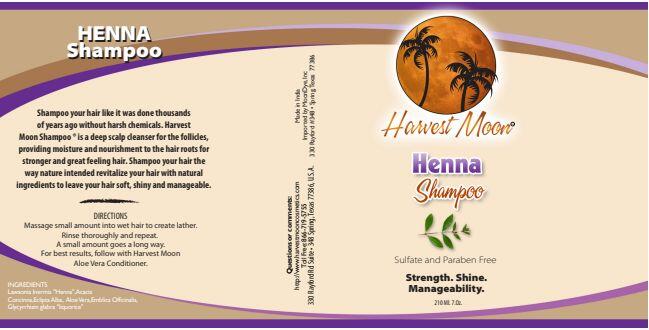 Harvest Moon Natural Henna Extra Conditioning Shampoo
BY RODNEY HARPER
FEBRUARY 22,2020
Harvest Moon's natural shampoo is paraben, sulfate, preservative, and gluten-free (certified). It does not color your hair and smells equivalent to a new leather wallet or purse. You will never find anything like it ever! It is exceptional for dry hair, fine hair, and oily hair. No matter what hair type you will get it back in top-notch shape in just a few weeks. It has zero essential oils and all-natural ingredients. It is cruelty-free and with no shea butter or coconut oil, not even argan oil. Harvest Moon® has zero oils, leaving your hair light and invigorated. It is so natural we have to execute it one batch at a time and will not be on the shelves of any store because the shelf life is only one year.
One Bottle Last Up To A Year!
You heard that correct, this natural product is very concentrated and you need only a tiny amount to create an incredible lather, the second application takes even less. So while it does look expensive it is more affordable than most big box brands and only costs a few dollars a month. Compare that to any Whole Foods shampoo's and you will see how this shampoo compares. It only takes a dime-size amount to create beautiful hair. Like all of our products, this one was something we had looked for over a very long period of time. We have tested hundreds and hundreds of shampoo's only to be thwarted time and time again. The smell is incredibly natural and can tell the difference as soon as you smell it.
Sensitive Scalp and Damaged Hair
It is absolutely amazing how many people have sensitive scalp and hair, the matter of fact is I am one of them and this is the reason I am sharing it with everyone else. For years I was diagnosed with psoriasis and any shampoo I used always made it worse. I tried hundreds of organic shampoos that claimed they all were natural and organic, however, none helped me with my scalp and even made them worse. This delightful concoction of natural ingredients does wonders for my psoriasis. It is not a cure however it absolutely makes a huge difference. I searched and searched, spending a very large amount of money and was getting depressed because if it went on the shelf at a grocery store or specialty shop, it had preservatives or sulfates.
I had organic hair, however, my scalp was not happy at all. This is when I turned my attention to the one country that the women have incredibly beautiful hair and ayurvedic products are in abundance! If you guessed India you are correct! India is well known for its ayurvedic products that have been made for hundreds of years and passed down generation after generation. Each batch takes over 3 weeks to make and they do one batch at a time because of the shelf life. If you purchase multiple bottles you can stick one in the refrigerator and it will stay fresh for 2 years. Once you open it no need to put back in the icebox because it will last one year after you open it. When you start using it you will see and feel a major difference in about a week. If you have dandruff your scalp will start to clear up in a little over a week. This is the ultimate product for hair and scalp and has a 100% guaranteed for 30 days. If you are susceptible to harsh ingredients that are added to shampoos and conditioners.
Color Damaged Hair and Split Ends
If you have used chemical dyes in the past you know what effect it has on the hair. Chemical dyes cause split ends and dry your hair out, leaving it flat and frizzy. You can change that starting now. Remember once your hair is annihilated by harsh synthetic hair color there is no reviving it, but you can make it softer and more manageable. We all detest dry frizzed and crinkled hair. This premium shampoo will take your mane to an entirely new level while the damaged hair grows out. Who does not like simplicity–healthy, beautiful hair? You can tame your hair and beard even if you have greasy hair or dry hair. This product works by balancing your hair and scalp. What people do not understand or comprehend is that after your hair is damaged from chemical hair dye, you have to wait for the new hair to grow back in and that can take years if you have long hair. A healthy diet and taking biotin helps to get your hair in tip-top shape as well. Just remember vitamins like biotin are not quick-fix remedies but will absolutely help over time, so be patient. When it comes to split ends many people will put oils in their hair, some oils can actually suffocate the hair and then your natural oil production comes to a halt, which leads to a vicious cycle of the hair drying out and need more oil. It takes a long time to end this process and the only way to do so is by putting an end to the oil and saying hello to Harvest Moon®. Let your hair breathe naturally. Almost every person who has used this shampoo says it relieves the scalp and makes their hair feel incredible.
Harvest Moon® Natural Hair Conditioners
Harvest Moon natural hair conditioners play a big role in rehydrating dehydrated hair. It is oil-free as well so your hair is frizz-free and lighter after using it, all while giving a shine of health. I see so many people on a daily bases that have dried up thinning hair.  This is a dread-lock dream come true and the fact is if you have dread-locks you can get away with minimal use. However, if you are using the extra conditioning henna you will not need to use conditioner. Harvest Moon does have two conditioners, green tea conditioner, and aloe vera conditioner. All which are 100 pure and are great for color-treated hair.
Related: