Why Use Henna Hair and Beard Dye to Add Style and Grace to Your Beard?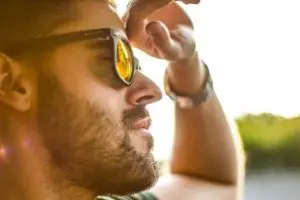 From 'lumbersexual to dandy wildman' – thus GQ defines the transformation of the modern beard, sported by everyone from Bradley Cooper to Jake Gyllenhaal. While silver foxes are wearing their beards with pride, men who prefer their beards to match their hair color often opt for beard dye.
From jet black to lively red or earthy ash brown, the sky's the limit when it comes to color. Beards can, of course, be a little lighter or darker than hair, so playing around with color and the chosen product is key before you chance on the winning combination. If chemical products aren't your thing, the good news is that Harvest Moon is a 100% chemical-, alcohol-, and compound-free choice that is made exclusively from plants. 
What does 'Natural' Mean for Hair and Beard Dyes?
When seeking a healthful product to dye your beard, it is important to read labels well. You may find products that advertise that they contain 'natural' ingredients but this does not necessarily mean they are chemical-free. Harvest Moon is totally plant-based, and it is made of a plant that thrives in hot, and dry climes. Its leaves are collected, dried, and ground into a powder that is then made into a paste for various uses – including tattoos, hair dye, fingernails, and beards.
Why Go Natural?
Arguably the strongest advantage of plant-based products for dyeing beards is that they do not contain ingredients like preservatives, PPD, and parabens. As stated by the EPA, ingredients such as these can cause everything from asthma to dermatitis, and worse. The effects that chemicals can have on your scalp and hair can also affect the appearance and quality of your hair. Thus, some chemical dyes can swell the hair strand, allowing harsh ingredients to reach the hair cuticle. This can result in damaged, brittle beard hair that loses its gloss and natural vibrancy. 
The sophistication and efficiency of modern henna beard dye products mean that you can count on optimal coverage and long-lasting effects, without sacrificing your health. The good news is that henna will not only change the color of your beard; it will also repair damage caused by chemical products. How to Apply Henna?
Article Credit Credit:
Ali Wills
Photo by Pxabay