---
EarthDye Hair Dye
is by far the best henna available on the market. It is gentle on the hair, unlike some other brands I have tried which actually caused my hair to start falling out. The dye from henna actually coats and protects the hair shaft whereas chemical hair dyes physically alter the structure of the hair causing permanent damage, split ends, brittle, and dry hair. I have found the Henna Hut hair dye remains true to its color on my hair for 6-8 weeks. Any new gray hair growth (in between treating my entire head every 6 weeks) only requires a quick touch-up and only at the sight of new growth. My hairdresser told me that since I started to use this Harvest Moon, my hair is extremely healthy with no split ends, and with exceptional shine. Chemical hair dyes should not be used by anyone now that all-natural henna hair dye is available in so many shades from Henna Hut. The risk of cancer and chemical sensitivities which can lead to acute allergic reactions requiring life-saving emergency treatments in susceptible patients should be enough to warrant discontinuation of their use by the general public. As a physician, I have seen and treated patients who developed life-threatening respiratory reactions from chemical allergies from chemical dyes. One cannot always determine safety by doing a skin test, as the amount of the chemical applied to the skin is so small that it may not lead to a reaction until a larger amount is applied to the hair.
I would urge anyone reading this testimonial to please try the Harvest Moon hair dye and switch permanently to this method from chemical hair dying. Not only will your hair be healthy, but so will you. This testimonial is completely unsolicited and reflects my own professional opinions as an MD. Give EarthDye hair dye a try and I guarantee you will not go back to chemical dyes ever.
H. Singh, MD (North Carolina)
---
Dear Henna Hut,
Last year I developed an allergy to PPD, a chemical commonly found in traditional hair dye, so to appease my vanity I set out to find a completely natural hair color product.  After calling a dozen salons and doing hours of internet research, I found Henna Hut. They promised a high-quality, chemical-free product that would give me healthy, beautiful hair. I took a chance and the results were phenomenal! The color is rich and stays true for much longer than traditional dye. Plus, henna is much less expensive than a trip to the salon. Stunningly gorgeous, pocketbook-friendly color: What more could a girl ask for?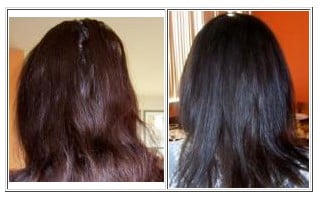 Thank you Henna Hut!
M.M., Arlington VA
---
This was my first Harvest Moon application and I must say I am very pleased with my results. I have definitely transitioned to using henna + indigo as my hair coloring product. I love that it is not harmful to my hair and that it actually helps it grow thicker and healthier.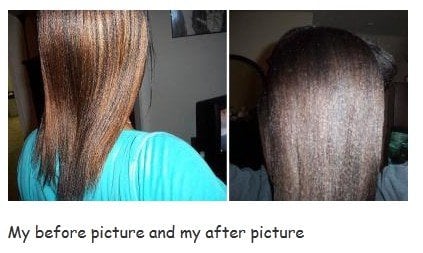 Thanks,

---
5

First of all, thank you very much for sending my replacement order, your customer service is excellent. I have referred a lot of customers your way because I was very pleased with my results. I can't wait to do this again. I followed your directions from the website video which were very easy to follow. Since I did the henna application to my hair I have no longer had to detangle my hair, I have also noticed a difference in my curl definition. I am very please and thank you, you have a lifetime customer in me.I LOVE your quality henna. It is nothing like the ineffective henna that I have used in the past.

The first picture is before the application, the second picture is after the Henna application and the third picture is after the Indigo application.  This is the two-step "Jet Black" product.
L.W.   Houston, TX  (see before and after pictures)
---
6

Hey,
It really looks great, next I am going to use the dark brown and see how it goes. But regardless if I have to use the plain henna then the indigo to get jet black, or the dark brown as a one-step I'm sold, and will be ordering some more real soon, I just thank God it didn't break me out. My sister and mother were amazed with the results, and I am getting the hang of it. so you have a customer for life.  I just wanted to thank you for sending me the henna you DID send me hopefully the one package of the dark brown will be the ticket I really really love it, now all I need to do is a blog about it on myspace, and I will.
Thanks so much
D.B. Travelers Rest, SC
---
7
I absolutely love my new color! I used red and I have never had so many people give me compliments.
Thank you!
Sabina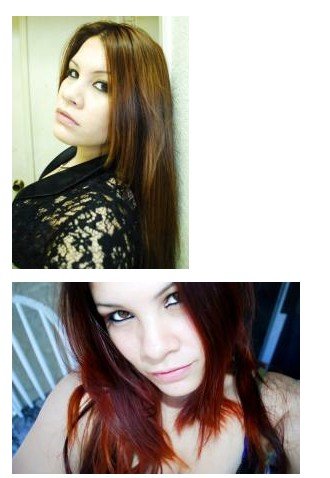 ---
8

HI,
I've been trying to get a bright color without those horrible chemical, hair destroying dyes. I tried the Sunset Orange and it definitely brightened it up. What a healthier, amazing color! I will definitely use Henna from now on and never back to the eco-UNfriendly dyes out there. I was also excited to see how many colors you have. In the stores I see only 2 Henna colors and I change my color often. I'll sure be back for sure!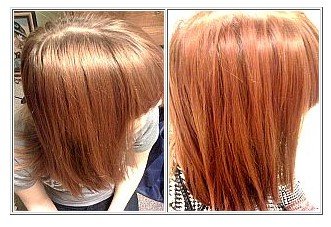 My Before picture: I had a fading strawberry blonde with long roots. The Henna covered great and evenly! I love it and can't wait to try more colors. The After picture: is after 48 hours and one shampoo wash.
S.C.South Amboy, NJ
---
Hi Henna Hut,
I want to say big thank you for the great product!
My hair story is a life-time struggle with all possible troubles with hair quality.
I wanted to dye my hair, so as always bought a regular chemical dye. But after years of chemical dyeing my hair were weak and after each coloring I had stronger hair loss. So I decided to make change and tried to go "natural".
I set to find info about henna. From many offers I chose your company. I did not want my hair to be reddish (one of my friends uses it for red hair and she told me that henna always gives red shade!!) so I asked you by email if your henna can provide brown shade without any red hints. Your prompt answer was positive so I decided to try it and ordered dark brown.
Guys, the delivery was speedy. Thank you for the perfect service.
I was so eager to try it on that I did not even carry out the strand test (luckily the color result worked out OK for me though I know I should have done the test..). I managed to make the mixture and put the funny freshly-cut-grass smelling greenish stuff onto my hair wondering what is gonna happen. I left it on for one hour, then washed it off. I was wondering and a little afraid what is it gonna be like. It was dark brown with kind of green hints. I went like: Ok, no red, that is good but I do not want to go to work with greenish hair.
Then I could see minute from minute the color changing and after a while it was perfectly dark brown-black. I did not wash my hair with shampoo for 48 hours as you advise. The color set perfectly and I love it!
My hair is significantly stronger, too. Everybody noticed. After years of problems with hair loss and thinning hair people are praising my hair!
And for the first time after coloring my hair I did not notice any hair loss either. Miracle!
So I wanted to say big thank you!
Thanks,
10
I tried Henna Hut's burgundy hair dye and it worked excellent on my hair. I am so glad that I turned to Henna Hair Dye instead of damaging dyes that have peroxide and other bad chemicals that damage hair to the extremes. Thanks  Henna Hut you're the best for hair!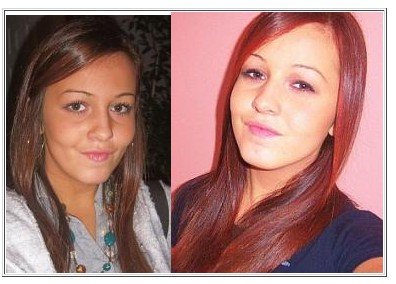 S.N. Ooltewah, TN
---
11

Hi,
I just wanted you to know that I am completely satisfied with my purchase. I ordered the Indigo with the black henna kit and my hair is so soft. All the split ends I've had are mended, I can comb through my hair w/no tangles and my hair is not shedding after I wash and dry. The henna has given my hair a natural sheen and no more dry itchy scalp. I will continue to order more and will tell my friends about your site.
Thanks!
S.A. Cary, NC
---
12

Dear Henna Hut,
I have been dyeing my hair for 6 years and this was my first time using henna, it was so easy mix apply and rinse; and no bad smell!  The colour turned out just as I wanted too.
This henna hair dye is great!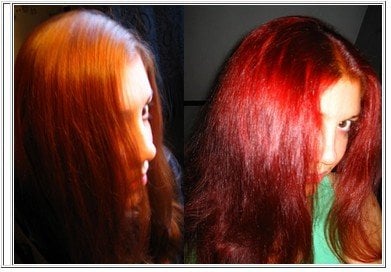 Thanks,
I am honestly thrilled with your henna. It hasn't faded at all and my hair looks so much shinier and healthier. And the color is just so vibrant! I've tried several brands and never knew henna could create a color like this. I've told all my henna-using friends about your website. Your service is fantastic as well.
I have been using Rainbow Research Henna up until now, and I will never be going back. No matter what I did, my hair always came out bright orange. After using your henna it is a vibrant, multi-tonal red and I love it! Plus your henna was much easier to mix and easier to rinse out.
Thank you for selling such an awesome product.  You have a Henna Hut customer for life!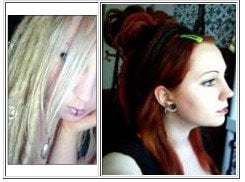 M.B. Central Falls, RI
---
14
Thank you again for all of your help getting me started using henna.  I tried using the dark brown again (minus the Head and Shoulders) and my hair color is beautiful already…and it hasn't even settled in yet for 48 hours.  An added plus is that the dandruff I was getting from the chemical dye is now gone too.  I appreciate your encouragement and customer service above and beyond expectation.
E.J. Rye Brook, NY
---
15
I am really happy with my results!!!  Thanks so much!  I will definitely tell my friends about ya'll!!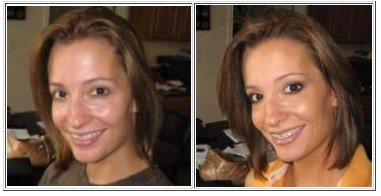 Picture 1 is before and picture 2 is after an application of light brown henna hair dye.
L.B. Katy, TX
---
16
I recently bought indigo from you for dying my hair. I have been using indigo and henna for many years now, but I never got something of such great quality as your henna! What I liked best was the almost creamy texture it has when I mix it with hot water. It stays on my hair very well, unlike the "crumbly" versions of indigo I used in the past. I wonder what the secret is. Is is a different type of henna or do you grind in more finely?
In any case, thank you! I will for sure keep buying from you!
Thanks again,H. K.  Chesterbrook, PA
---
17
My experience with henna hair dye was new and exhilarating.  I have never before used henna hair dye and surprisingly enough it was quite simple.  There were three simple steps.1. add water.2. mix it up.
3. put it on my head.
And WOW!!!  The color was just awesome.  Now I've got the best hair at my Community College.  Also, I'm a waitress and I get compliments all day at work.  I'd like to thank all you'll down at the Henna Hut!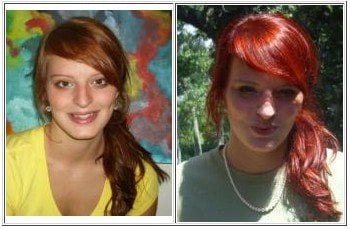 This is me before doing the "Red" Henna Hair Dye and my after picture.
J.B. Gulfport MS
---
18
I recently purchased the Mahogany henna and it was FABULOUS!  It covered the few strands of gray hair with a rich color, and the rest of my dark brown hair is now a warmer, richer brown.   You now have a new regular customer.
Keep up the quality and service!
Thanks,
C.W.  Jamaica, NY
---
19
Hi Henna Hut!
I am so happy that I found your website. I love to change my hair color, but at the moment I am currently nursing my son. I definitely had to find a type of hair dye that is not only safe for me, but for my son as well. (since whatever I take in and use affects him). I decided to use your hair dye product because it is chemical-free. I'll have to admit that I was a bit skeptical that the color would catch on my hair because when I used a henna product on my hair, it had no effect on it. My hair didn't even change color! However, after using your deep henna red product, I was amazed at the results. I love the way my hair looks and feels now! The texture of my hair before was brittle, had split ends, and just felt dry, due to previous bleaching and chemical hair coloring. Now, the color is great, it's shinier, and it feels so much healthier! It feels so soft and I can hardly see any breakage. It even seems to be growing faster. I have gotten so many compliments on my hair. I want to try the burgundy hair color next to see how it will come out. You have definitely got a customer for life! I recommend this product to women who are pregnant or breastfeeding as a more safe alternative than those more harmful grocery store-bought dyes.
1st photo:  you can see how damaged the bleach and dye had left my hair
2nd photo: after henna, indoors (after 48 hrs)
3rd photo: after henna, outdoors (after 2 weeks) color looks even deeper
thanks,
N.T., San Antonio, TX

---
20

I purchased the hair dye in burgundy and I LOVE IT!
My "before" picture was after I had colored my hair with henna powder and Turkish coffee. I have black hair (I'm Asian) and this method turned my hair brown. My "after" picture, after using your burgundy hair dye, gave me the exact color I wanted! I will definitely purchase from you again, without a doubt! Not only did I get a wonderful color, my hair is extremely healthy and seems to be growing out really fast! I have been recommending your product to everyone who asks about my awesome hair!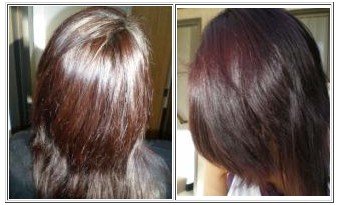 Thanks so much!
T.N. La Jolla, CA
---
21
Dear Henna Hut,
I decided to try henna because I wanted to color my hair but my mom wouldn't let me use chemicals.  I was going for a darker color than the red in henna.  I used burgundy.  I wanted the color to be darker but was pleased with the overall effect.  I will definitely be using Henna Hut again.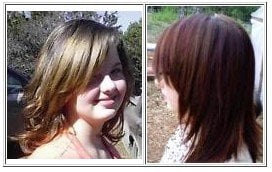 Thanks,
D.R. in San Marcos, TX
---
22
I needed to cover up my gray hair but refused to use chemical hair color.  I was very pleased with Henna Hut and their products.  I used 'brown' henna color.  All of my gray was colored and I loved that the color looks natural, right down to the sun streaks.  I will be using your company for many years to come.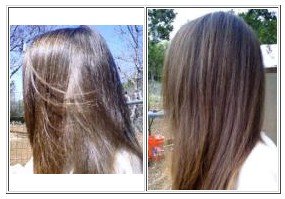 Thanks,
R.R. in San Marcos, TX
---
23
I love my henna hair! It is such a luscious red unlike that which you get from awful chemical dyes and it makes your hair glow! I just put it on and watch a movie or read a book and it smells good! Henna rocks!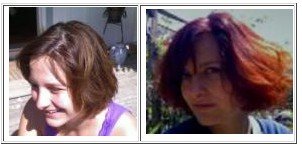 Thanks,
S.B., Gulf Shores, AL
---
24
Thank you so much for your product. My hair has always been healthy and I wanted to keep it that way. I was looking for a different color (I am a brunette with blond and red (natural highlights). I found the deep red and I thought that would be perfect for the color I was looking for.
It turned out great.

Thanks Henna Hut!
P.P., Hillsboro, OR
---
25
This was my first time ever using a henna product on my hair. I have always had my hair highlighted and it was getting extremely damaged and dried out. I was a little nervous about henna, especially with my highlights….I didn't want them to turn green! Well, all I can say is that I wish I tried this product sooner! My hair color turned out GREAT and it was softer and silkier than ever before. I had so many comments about how much healthier my hair looked and I can only credit Henna Hut for that. I will continue using this product and would HIGHLY recommend it to anyone. THANKS HENNA HUT!!!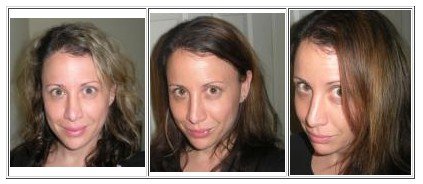 Thanks,
R.M., Lancaster PA
---
Hi Henna Hut,
I've decided I love henna and am so glad I learned about it. I know my hair will look better and better as I get the damage cut off and continue to henna my hair!! I love the natural look.

Thanks,
R.M. Burson, CA
---
27
I had actually just cut off all my hair to get to my natural color, as i was pretty sick and tired of chemical dyes.
Then my best friend found your site and placed an order. as soon as i got to see her next, and feel her hair, i knew that i should place an order! so i did… and i bought extra for later, and some for my mom.
here is my first application, i had natural medium (although it shows to be darker in the pictures,) brown hair to work with. there was a little bit of natural sun bleached tips. i used your red henna. it came out awesome!
I have much shorter hair than the rest of your testimonials, so i used only 50grams (half the package,) and 3/4 cup of hot tea.
You took my payment swiftly, and shipped quick! needless to say, i plan on making more purchases with henna hut! THANK YOU!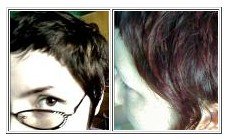 K.B. Albuquerque, NM
---
28
I received the product so fast..day and a half and already have completed the henna color last night(Burgundy). I didn't see any other email on your  site except this one to send before&after photos..!:) so I wish you do post them to your site…cuz I started out all bleached damaged blonde and ended up with dark burgundy in just one hour.
             Thanks a lot I love it and will order once a month ! I include 3 photos…#1.before henna…(did eyebrows too)#2 one hour after,hair still wet and indoors nighttime,#3…next morning,(this morning) by window, sunlight and color darkened.

S.M. Alexandria, Va
---
29
Hello Henna Hut,
I have purchased my very first Henna product from your online store. I am very pleased with my purchase and my hair color. I love the fact that I am using an all natural product on my hair. And again thank you very much for providing me with a quality product at such a great price.

S.M. Sacramento, CA
---
30
Dear Henna Hut,
After i found out i was diabetic(type2) i decided to use a chemical hair dye to color my hair. To my dismay my hair started falling out at an alarming rate.  It turns out it was a chemical reaction with the hair dye and the medications i have to take. I came to the realization that i would never be able to color my hair again and so made peace with the grey that adorned my head.  I tried henna when i was in my teens and knew that it was natural and would not harm my hair. I couldn't be happier with the results and highly recommend it to those who have to take medications to control their diabetes. Thank-you so very much for Harvest Moon hair dye. Your product gave me back a part of me i thought i had lost.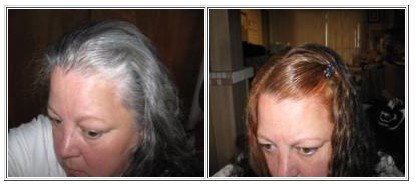 Thank You,
M.G. South Lake Tahoe, CA
---
31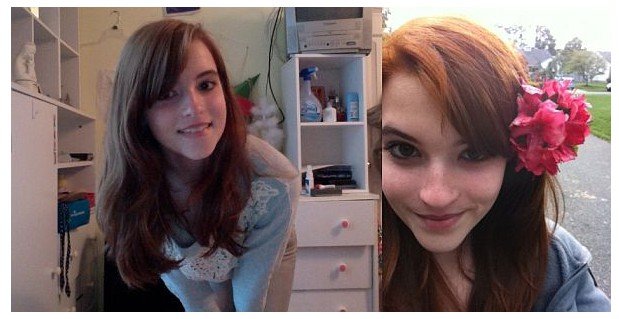 I have so many pictures of my new hair because I love it so much!! And like your site said, I HAVE NO MORE SPLIT ENDS!!! The color mixed very well with the dyed hair and the natural hair (roots). Everyone is saying how this color is like my perfect hair shade; I've only been getting compliments left and right!
Julia K.