Sunset Orange hair (pure henna with Shelly Oil) dye is very much like sunset glow,but is 100% pure henna with 1 bottle of shelly oil per pack.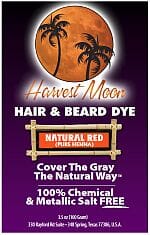 Sunset Orange Henna Hair Dye

Includes 100 grams/3.5 oz & 1 bottle of Shelly oil

Reg. Price $17.43

Hair Kit Comes With :

Latex Gloves
Shower Cap
Hair Clips
Application Brush
Root Touch Up Cone
Sunset orange is a super red orange color on blondes and gray hair. It is Pure henna (natrual red) and comes with Shelly oil to make it super bright sunset orange. Those with brunette hair will get a dark color with orange hints. Blonds and gray headed people will be sunset orange. Strand test to see how long to leave the paste on to get your desired color. 1 hour is usually more than enought time. Do not wrap hair.
This is not Sunset glow by Lucent, but is very similar in color.

It is a permanent hair dye and 100% pure henna.

Looks fabulous and better than your own natural color.

Simply add water and a couple of drops-1 bottle of Shelly oil (Included).
Natural Hair color | after application