Description
Harvest Moon® Light Brown hair dye, works on all hair types. All-natural plant product; No Chemicals, No PPD, No Ammonia, No metallic salts
100 grams Harvest Moon Light Brown Hair Dye
No chemicals mean this color will not lighten your current hair color. This color will turn gray/white/silver/blonde hair into a light brown shade. Any darker strands of hair will stay the same shade since our product will not lighten it. Light Brown has a higher percentage of henna than indigo which can cause a slight red tint in some.
100 grams powder is enough to do mid-back length hair one application. The length of your hair will stay this color, only the new hair growth will need to be touched up as it comes in. Typically hair grows about 1/ 4 inch a month. Some grow faster some grow slower, everyone is different.
Harvest Moon light brown henna hair dye blends with light brown and like all other colors covers grays. Please remember light brown will not make your dark brown lighter. If your hair is darker than it then you will only see a difference on the gray hair. Ingredients:
How Harvest Moon Light Brown Works (Hair or Beard)
There are 60 shades of light brown. Harvest Moon brown light blends with all light browns. If you have dark brown hair and you want a lighter color, this color is not for you! If your hair is darker brown from henna hair dye, then you will need to lighten it first before using light brown. Please see our lighten your hair in 48 hours naturally page. It is very easy to remove henna this way, however not chemical hair dye.
If you have medium brown hair you are looking at the correct color. Our brown does not have to match your exact color, it will in fact cover white and gray hair and blend naturally.
If you only have white root growth, then just focus on the roots and "feather" the dye in. If you have strands of gray or white, you can do your entire head and it will blend right in.
If you are all white the color "might" come out lighter. This is not the case for everyone, more so for people who have bleached their hair white or blond. If this is the case then you might want to go with a darker brown the first time.  The great news is Harvest Moon is 100% chemical-free and you can use it as often as you like. If you have white hair and it has been 24 hours after you rinse the dye out of your hair and you do not feel it is dark enough, then you can simply do it again. The reason we say to wait 24 hours is that Harvest Moon will darken over 24 hours. so be patient.
Once you have established your color, simply do a root touch-up as needed. The more you use it the easier it will be.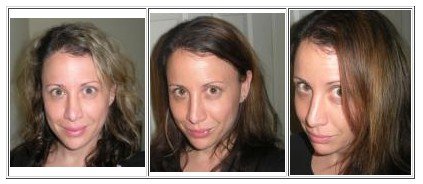 Use Over Chemical Hair Dye
If you have used chemicals you need not worry. You can literally chemical hair dye and then immediately use Harvest Moon over the chemicals. Your hair will be instantly soft after your first shampoo. Harvest Moon has natural conditioners that condition your hair while it is adding color. Please remember colors might come out lighter on chemically dyed blond hair. We always recommend a strand test to see what color to expect.
Hair Growth And Curls
Your curls are safe and you will notice your hair will start to grow faster. This is perfectly normal and a healthy sign your hair is doing better. Harvest Moon will also protect your hair from the sun's harmful UV rays.
How Much Do You Need?
One package contains 100 grams or about 4 ounces of powder. This is enough to do shoulder blade-length hair. If your hair is thick, you might need 1 pack and 1/4th pack mixed. Powder mixed thicker is always better than runny. So make sure you get enough to get the best results.  Whatever you do not use, store in a dry cool place out of light and it will stay fresh up to one year. Unopened it is good for 4-5 years.
If you have any questions, please contact us. We do answer quickly, even on most weekends.